Hey cupcakes! I was craving my fav cookies recently (Pumpkin Chocolate Chip cookies!), so I decided to buy a can of pumpkin puree.... I know, I know, pumpkin is totally a fall flavor, but I absolutely LOVE Pumpkin Chocolate Chip cookies ;)
With the one can of pumpkin, I could make two amazing treats:
1. 32 Pumpkin Chocolate Chip cookies
2. Pumpkin Smoothie
Here are the delicious recipes:
Pumpkin Chocolate Chip Cookies
Find the original recipe
here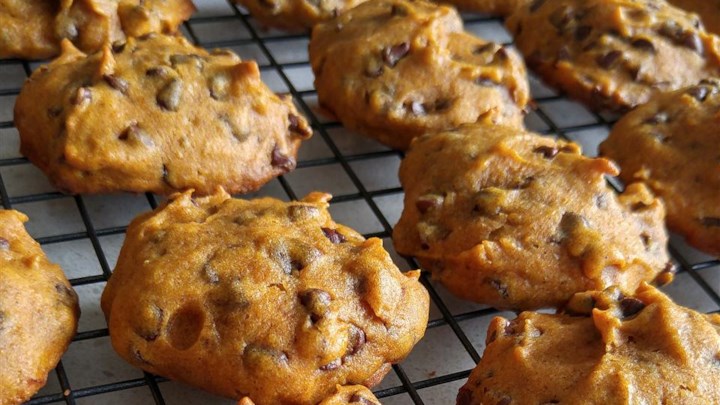 Ingredients:
-1 cup of pumpkin puree
-1 cup sugar
-1/2 cup canola oil
-1 egg
-2 cups flour
-2 tsp. baking powder
-2 tsp. cinnamon
-1/2 tsp. salt
-1 tsp. baking soda
-1 tsp. milk
-1 tbsp vanilla extract
-2 cups of chocolate chips
Steps:
1. In a large bowl, mix together pumpkin puree, sugar, oil, and egg.
2. In a separate bowl, stir together flour, baking powder, cinnamon, and salt. Dissolve the baking soda in the milk and add to the mixture.
3. Slowly add the flour mixture to the wet ingredients until fully combined. Add vanilla and chocolate chips.
4. Drop by the spoonful onto a greased cookie sheet (I could make 32 cookies with the batter). Bake at 350 degrees for approx. 10 minutes or until golden brown (mine took about 12-13 minutes).
Pumpkin Smoothie
Ingredients:
-Rest of the pumpkin puree (about 1/2 cup)
-1 banana
-6 ice cubes
-5.3 oz of vanilla greek yogurt
-1 tsp honey
-1 Tbsp milk
-Pinch of nutmeg
Steps
1. In a blender, add all ingredients.
2. Pulse until smooth! :)
3. Pour into a glass and enjoy! The pumpkin is really subtle and leaves a really nice after taste. :) A perfect treat for breakfast!
What are your favorite pumpkin recipes?
Comment below and don't forget to follow!