Hey cupcakes! A couple of weeks ago I was really craving some muffins.... Lol, I know it's weird, but I crave random foods every now and then :P I didn't really have much in the house, but I found a recipe for
Hummingbird Cupcakes
that I could modify into a muffin recipe.
If you have never heard of Hummingbird cake, a quick Google search gives this definition: a banana-pineapple spice cake common in Southern US. It is really delicous! Here is my modified cupcake-to-muffin Hummingbird recipe:
Ingredients
3 cups flour
2 cups sugar
1 tsp cinnamon
1 tsp baking soda
1/2 tsp salt
3 eggs
3/4 oil
1 1/2 vanilla extract
8 oz can crushed pineapple (with juice) - I used a 8 oz can of pineapple tidbits that I mashed into smaller pieces!
2 cups mashed banana - I used only one banana (because I only had one!) and it worked just fine!
Steps
1. Preheat your oven to 350 degrees
2. Combine flour, sugar, cinnamon, baking soda, and salt in a large bowl and mix together with a fork.
3. Mix in slightly beaten eggs (I beat them a bit in a small bowl with a fork), oil, vanilla, pineapple, and banana with a wooden spoon. Keep using spoon to hand mix until everything is wet! Note: the batter is pretty thick.
4. Line two muffin pans with liners and pour the batter into pans (each liner should be about 1/2-2/3 full).
5. Bake in oven for about 15-20 minutes! I baked mine a little over 20 minutes, but they turned out a bit burnt... I would recommend watching them in the final few minutes!
Here is what my muffins looked like! :)
What is your fav muffin recipe?
Comment below and don't forget to follow! <3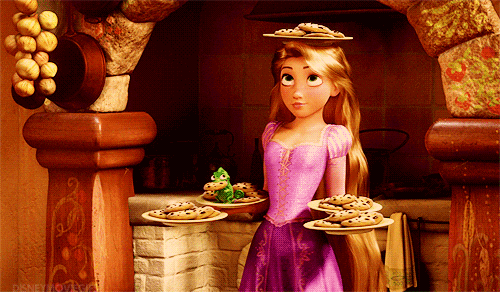 Time for some bakingggg!