Hey cupcakes! In my latest haul, I told you all that I bought myself a PopSocket (read that post
here
). I have been seeing SO many people with PopSockets on their phone, so I thought I would write a quick post telling you all what I think of the product.
This is the one I purchased! :)
If you don't know what a PopSocket is, the brand describes it as "an expanding piece of magic for your phone". The device sticks onto your phone or phone case and can then be used as a phone grip, media stand, cord wrap, etc.
I absolutely LOVE my PopSocket!! My hand would always hurt if I would be holding my phone for too long, so the PopSocket makes it wayyyyy more easier. Instead of having to grip both side of the phone with your hand, you can just hold the PopSocket between your fingers. :D
I also really like using the PopSocket to stand my phone up when I am driving and need directions. Instead of having to look at my phone lying flat, I easily can just glance over and make sure I am still on my designated route. It totally makes driving much more safer!
The PopSocket is super easy to remove and put on a different phone case as well. The gel-like substance that allows the product to stick doesn't dry out if it is stuck on something, so you really only need one PopSocket for however many cases you have! I personally haven't ever "unstuck" mine, but I have heard from close friends that it works super easily.
Lastly, you really can't go wrong with how affordable they are. The website has hundreds and hundreds of different colors, and they are all only $10! I have seen them in other stores around my mall, and they are always $10 as well. If for some reason you can't find a color/design that you like, you can actually
design your own PopSocket
for only $15!!!! I think I am honestly going to create my own really soon. :)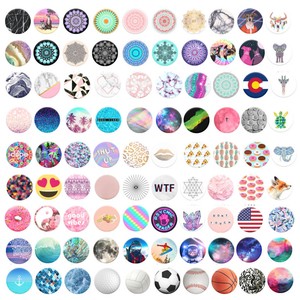 Look at all those chickens - lol
Overall, after having my PopSocket for only a couple of months, I would definitely recommend it to anyone!!! It is truly amazing, and I am so happy I bought it!
What do you think of the PopSocket?
Comment below your thoughts and don't forget to follow The Chic Cupcake!
Love,
Jenna <3