Hey cupcakes! It has been SO long since I wrote a post about makeup and beauty products, so I thought I would change things up today and write a fun post about my latest beauty obsessions. Let's get started! :D
1.
elf's Waterproof Lengthening & Volumizing Mascara
I barely wear any makeup in the summer (usually just mascara and powder), so I love wearing a simple mascara that is also waterproof for summer fun! While this mascara is honestly not the best with water, I still love the brush and how it makes my lashes look!
2.
NYC Smooth Skin Translucent Powder
This is perfect for a summer day, and I love how light-weight it is! :) This is by far my favorite powder, and it is also super cheap... Definitely would recommend!
3.
Boots Extracts Coconut Body Butter
In the summer I, unfortunately, have to shave my legs a lot more than usual. To keep my skin healthy and hydrated, this body butter is my fav! It isn't thick like some body butters can be, so I love to use it after the shower. Such a great scent too!
4.
Viva La Juicy La Fleur
I have wayyyy too many body sprays/perfumes, so I decided to get rid of the ones I have before I purchase new ones. I ran out of my Viva La Juicy perfume in this double roller a long time ago, so I thought I would try out Viva La Juicy La Fleur... and I love it! The scent is super florally and perfect for summer!
5. eos Honeysuckle Honeydew Lip Balm
Lol - this is totally random, but I LOVE this lip balm. It keeps my lips moist all day,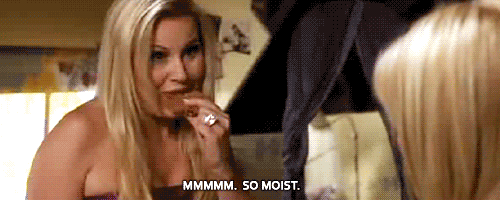 Haha sorry not sorry :P
and I love the scent/flavor.
What are your current favorite makeup products?
Comment below and don't forget to follow The Chic Cupcake (lol - you just have to after that
A Cinderella Story
gif)!
Love,
Jenna