Hey cupcakes! Fall is officially here... Kind of haha. The leaves have been changing on my college campus, but it has been like 80 degrees for the past couple of days! I am just waiting for the cool weather to set in so that I can go to an apple orchard and eat pumpkin chocolate chip cookies while I study ;) I wanted to share with you all my favorite apple crisp recipe today, because what says fall better than some apple desserts?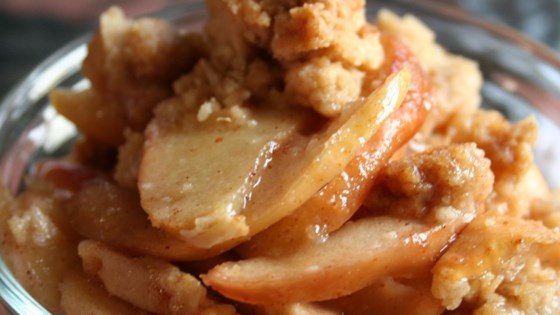 Find orignial recipe here
Ingredients:
-2 1/2 cups of apples (peeled and sliced)
-1 cup flour
-1 cup sugar
-1/2 tsp cinnamon
-1/4 tsp salt
-1/2 cup butter (softened)
Instructions:
1. Preheat oven to 375 degrees.
2. Spray a 8-inch square baking dish with cooking spray. Arrange sliced apples evenly in the pan.
3. In a bowl, mix together flour, sugar, cinnamon, and salt.
4. Cut in the butter (in the bowl) using 2 knives until the mixture resembles course crumbs. Sprinkle over the apples!
5. Bake until the top is golden brown (about 45 minutes). Eat warm or serve cold :)
What is your favorite apple dessert?
Comment below and don't forget to follow The Chic Cupcake!
Love,
Jenna the Baker