Hey cupcakes! I am such a big fan of writing my friends and family letters when I am at school, and as many of you know I have always enjoyed any type of art/craft project. In cooperation with Anagram Interactive, I wanted to review Paperless Post for you all!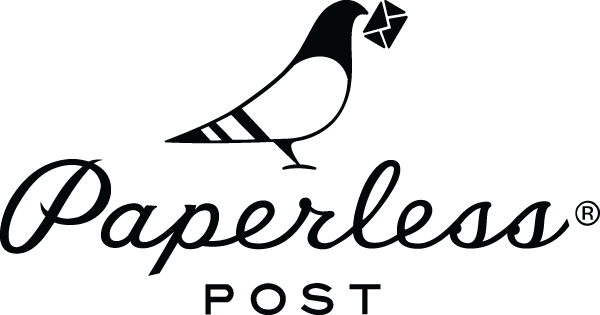 What is Paperless Post you ask?
It is a website that allows you to send virtual cards that are totally customizable (and cheap!) to as many people as you'd like. The website includes so many different types of cards and invitations, from birthday to holiday to wedding! To send the cards, you have to purchase "coins", with a starting package of 20 coins for only $6 (or $0.30 per coin). This base price gets cheaper as you purchase the larger packages of coins!
While there are some free cards on the website, I wanted to walk through my experience customizing both a 1 coin and 2 coin card. Let's get started!
1 Coin: Holiday Card
(check out the other
holiday cards here
!)
Front of card
Back of card
The card customization works by first picking out the cover of the card. Then, you can add different features for extra coins. Because I wanted to keep the price of this one lower, I added a gold backdrop (1 coin), pineapple envelope liner (1 coin), and green envelope (1 coin) for a card total of 4 coins (which is $1.20). I think this card turned out super cute!!!! When you send the card, it automatically send it in an email to your recipient(s). The recipient can them open it, which sends you to a video of the card being opened - it is super cute!
What it looks like when you first get the email!
For this card, I added a confetti backdrop (1 coin), polka dot envelope liner (1 coin), tan envelope (1 coin), and birthday cake stamp (1 coin) for a total of 6 coins (or $1.80). One of the things I absolutely love about the website is its hilarious pop culture references in the sample text (I kept the text the same in this card to show you all!). From the ones I saw, they had references to Harry Potter, Great Gatsby, etc. What a great touch!
Look at this cute design!!!!!!!
Overall Thoughts
I think this website is super cool! I cannot tell you how much fun it was to customize my cards, because there are just so many options! You can customize literally everything on the card (text size, font, color, etc.), and you can even add your own pictures. Plus, there are plently of amazing card designs to choose from, so you will definitely be able to find the perfect card for everyone. I think the idea of sending virtual cards is great because it reduces the amount of paper used, allows the recipient to keep the card forever on the computer, and is cheaper than most cards at any store (and you can customize it!!). Paperless Post also saves each card you send, so you can send the same card again or edit it for a new recipient. I definitely think doing invitations/holiday cards on this website would be fantastic, as all you have to do is put in emails and the cards will all be sent at once (you won't have to lick any nasty envelopes!). If you are looking for a great card website, I would recommend trying out
Paperless Post
! :)
What is your favorite way to send cards?
Comment below and don't forget to follow The Chic Cupcake to never miss a post!
Love,
Jenna <3
*These cards were given to me for free through Paperless Post and Anagram Interactive but all opinions are my own!*
*Only 19 days til Blogmas! Make sure to subscribe to come on this Holiday trip with me!*