Hey cupcakes! When I was younger, my parents would let my sisters and I build gingerbread houses... But, we didn't use a kit. Instead, we built our own from scratch using graham crackers!! :) This is still one of my fondest memories of the holidays growing up, so I wanted to share with you all how you can make your own graham cracker gingerbread house. <3
What You Need
-Lots of graham crackers
-Some sort of frosting (you can make your own, or use a can of Pillsbury frosting from the store!)
-Piping bag/knife for spreading frosting
-Paper plate
-CANDY (the more the better)
-Other things for decorations (sprinkles, candy canes, etc.)
-Powdered sugar (optional)
What To Do:
1. Place your paper plate on a flat surface to use as the "backdrop" for your house.
2. Break up the graham crackers to create the walls, roof, etc. of your house! This step is totally unique, as you can make your house look like whatever you want!
3. Place the frosting into the piping bag, and "glue" your walls, roof, etc. to the paper plate. Make sure to add enough so that it doesn't fall apart!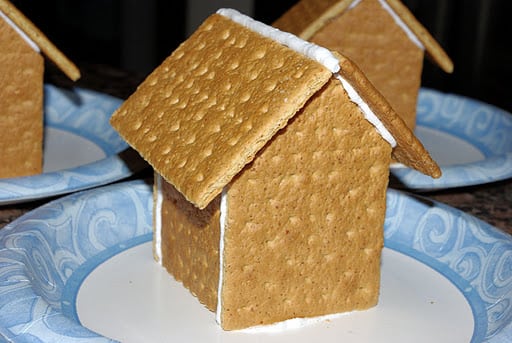 4. Continue to pipe frosting onto the house so that you can decorate with as much candy as possible!
5. When you are finished, sprinkle some powdered sugar "snow" over the scene to add an extra touch of the holidays.
6. Ta-da! Display your beautiful house for everyone to see :D
How do you build a gingerbread house during the holidays?
Comment below and don't forget to follow The Chic Cupcake to never miss a post during Blogmas! :D
Love,
Jingle Jenna <3
P.S. Don't forget to hit that subscribe button to help me achieve my goal of 50 new subscribers during Blogmas (a giveaway will be involved if I meet my goal)! :)