Release date
: December 15th, 2017
Rating
: PG-13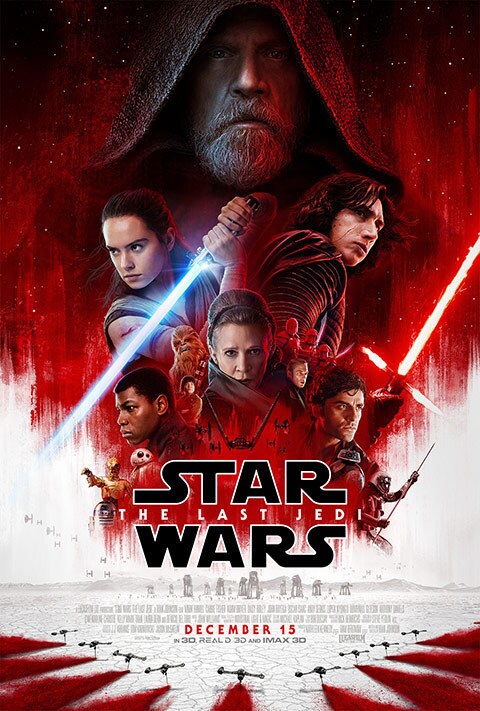 When I was home over break, I (of course!) had to see the newest Star Wars film. :) I really enjoyed The Force Awakens (read that review
here
), so I had big expectations for this movie. I thought it was awesome!!!!! Unlike The Force Awakens where a lot of the plot points seemed similar to the original trilogy, this movie brought in a new plot that really keeps you on your toes throughout the film. I honestly could not have guessed what was about to happen during half the movie, and I thought it was well executed for the high stakes of the movie.
I have been a Kylo Ren fan since The Force Awakens (and the hilarious SNL Starkiller Base skit), but this movie made me love Kylo Ren's character even more.
I would fight people with Kylo Ren any day! ;)
The only part of the movie that I did not like (SPOILERS AHEAD) was the scene where General Leia saves herself with the force. Not going to lie, it was pretty bad. It would have been way better if she had been hanging off the ship or something (because floating in space that long just wouldn't work people!). BUT, the rest of the movie really does make up for this two minute scene, so I have no complaints. There were tons of action scenes, plently of fighting/ship battles, and (of course) there was some great humor :)
I cannot wait to see what happens in the next episode, and I definitely recommend seeing this movie even if you aren't a huge Star Wars fan (because you will still like it)!
What did you think about The Last Jedi?
Comment below and don't forget to follow The Chic Cupcake to never miss a post!
Love,
Jedi Jenna