Hey cupcakes! I haven't done a haul post in quite some time (lol - probably because I don't normally buy things)... But I wanted to share with you all my collective haul from the past couple weeks! :)
1.
Burgundy Strap Top
from
Yoins
($9.95)
I recently did a post on my wishlist from Yoins (check it out here!), and I decided to purchase this shirt from them. I am lowkey obsessed with burgundy clothes, so I think it will look super cute in my wardrobe. The cross straps are a little interesting (they are a lot looser than in the picture), but I hope I will still be able to rock this shirt! Especially since it was $10, which is a little pricey for the t-shirts I normally buy, I am hoping to get a lot of use out of it :)
2.
Valentines
from Target ($2.50)
My boyfriend came to visit last weekend, and we went to Target... I just HAD to pick up some valentines for all my friends, and these ones have hilarious saying on them. :P
3.
Tim Tams
from Target (~$3)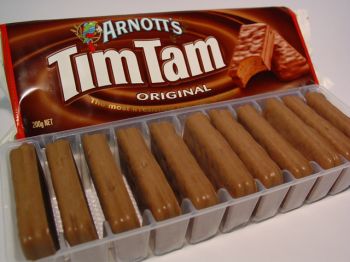 I was watching Jess and Gabriel Conte on YouTube the other day, and they were talking about how Target now carries Tim Tams (an Australian cookie that is supposedly really tasty). Of course I have to find them and OMG THEY ARE THE BEST COOKIES EVER! Honestly, they are my new favorite sweet treat, so y'all should also check them out.
4.
Neutrogena Rapid Clear Acne Eliminating Spot Gel
My skin has been breaking out like crazy recently, so I decided to try out a new acne spot gel. This one is awesome! It has been helping my skin so much, and I will definitely never go back to the Clearasil spot gel I was using :)
5.
e.l.f Translucent Powder
from CVS ($3)
I am pretty sure the reason my skin has been so bad is because I had to switch to a new powder after the discontinued the NYC one I was using. When I switched to the new spot gel, I also switched to this powder, and it has been a great combo! I only wish the actual product was a little larger, but for $3 you really can't go wrong!
6.
Animal Coloring Book
from Amazon ($8.99)
I finally got an adult coloring book! I have been wanting to get one for so long, and I finally bought one :) I can't wait to use this as an anxiety reliever, and the designs are so so cute!
What have you recently hauled?
Comment below and don't forget to follow The Chic Cupcake to never miss a post!
Love,
Jenna